Classic Audi Associate Tops in Regional Sales Competition
Promise to his grandmother fulfilled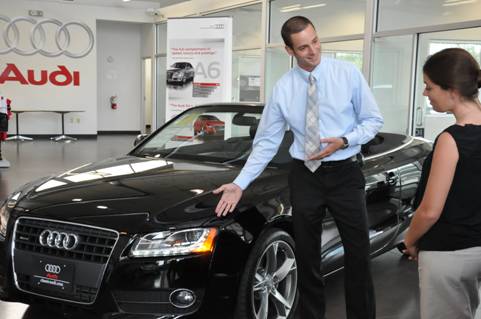 ALTAMONTE SPRINGS, Fla. (Oct. 4, 2010) --
Classic Audi sales associate Nicholas Feisthammel (pictured above), of Orlando, knows his product. In fact, he is so familiar with the brand-new 2011 Audi A6 that he gave the prize-winning product presentation during the Audi Southern region "walk around" competition. Feisthammel's succinct and engaging presentation of the car included explanations of its multiple new features and technologies and how these will benefit the customer.
Feisthammel won $2,500 for his first-place finish in the contest, where he competed with top representatives from each Audi dealership in the Southern United States. Next, he will travel the week of Oct. 25 to Audi's U.S. headquarters in Herndon, Va., for the national competition, during which he will compete with the other five regional winners for a $5,000 prize.
"
My passion for the product, along with personal motivation, helped me to win the regional competition," Feisthammel said. "My grandmother recently had a stroke, and I promised I'd win for her- so I really gave it my all."
About Classic Audi
Located in Altamonte Springs on State Road 434, Classic Audi is part of the Holler-Classic group of automotive stores, which is currently celebrating its 72nd anniversary. The company was founded in 1938 when Roger W. Holler Sr. opened Roger Holler Chevrolet in downtown Orlando. Holler-Classic's portfolio of dealerships includes Audi, Honda, Hyundai, Mazda and Driver's Mart pre-owned vehicle superstores.